Professional internship Costa Rica in audiovisual production – testimonial
My name is Isabella Naranjo and I am from Cali, Colombia. A year ago, when I was about to graduate from the Pontificia Universidad Javeriana, with emphasis in Audiovisual Production, I had to face the idea of choosing an internship, one that would allow me not only to test the learning of 5 years of undergraduate, but also to challenge me and allow me to discover and learn everything that can not be taught at the university.
I also wanted to have the experience of making it outside my country and since I have family in Costa Rica, it seemed like a good idea to apply to Costa Rican production companies. That's how I found CUCUMELO FILMS, after finding them in the directory of the Costa Rican Film Center. I contacted Maria Fernanda who showed interest in my profile and I set up a short interview. Two months later I was boarding a plane to San Jose to realize that CUCUMELO was even better than what was shown on their website.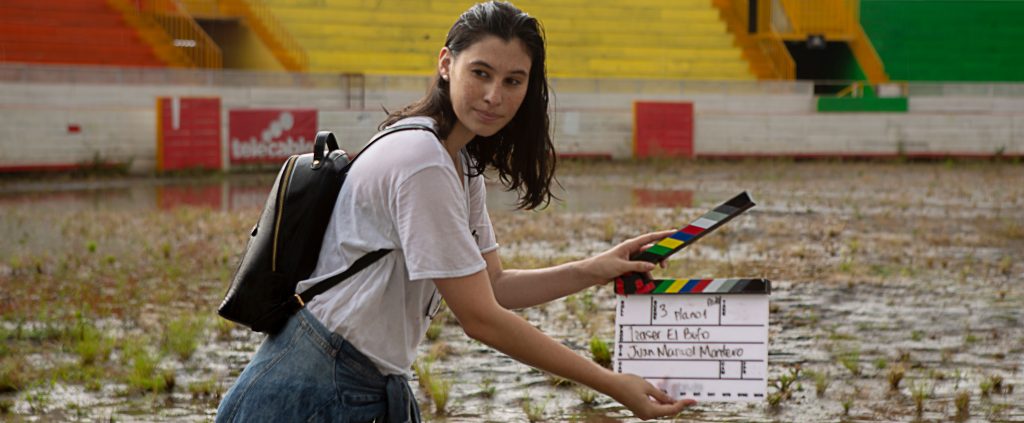 I discovered that it is a 100% integral company, since I had the opportunity to work in all branches of the audiovisual field, from television with its program EL ABC DE LOS PADRES, through narrative film projects both fiction and documentary, to the production of advertising and institutional products.
Specific projects such as the coverage of LA RUTA DE LOS CONQUISTADORES allowed me to live not only an experience in the audiovisual field, but as a foreigner, to know and discover every corner of this small but beautiful country. In narrative projects I had the opportunity to participate in the project LA FAMILIA DE LA VEJIGA, which was one of the short documentaries that were made within the production company and was also awarded the audience award at the International Film Festival of Costa Rica. In this project I was also able to get to know another side of the country because beyond its natural beauty you can live a cultural experience such as the masquerades and the game of bladders in the festivities of Barba, Heredia. In this project you can assist in camera, sound, production and also be part of the final editing of the audiovisual product.
In addition, it is worth mentioning the wonderful team that makes up the company. MARÍA FERNANDA and JUAN MANUEL were more than my bosses, because they always made me feel welcome and made sure that my stay in Costa Rica met all my expectations. They also trusted me and showed it by delegating me work that entailed a lot of responsibility, an opportunity that is not always given to a recent graduate. This also meant that I was able to work in different roles at the audiovisual level, from production assistant to assistant director, camera, sound and script writing.
After returning from Costa Rica in December 2017, the new job search began, one that would no longer be for a student internship but would lead me to face the working life in my country (Colombia), I thought it would be a difficult path but I made it; now, I am part of the HBO LATINOAMÉRICA team in Bogota as a producer for the CINEMAX channel.
All this meant for me an immense professional growth and training. It was the best way to start my professional life. For this and much more, I thank CUCUMELO, for opening the doors with my internship and allowing me to be part of their team.
If you want to be part of our team, please write to us at pasantias@cucumelofilms.com